Buy Energy Bar Packing Machine From RUIPUHUA
Energy Bar Packing Machine Is Worthy of Investment ?
Ruipuhua energy bar packing machine is an important investment for any chocolate production plan. It helps you increase the overall production while maximizing profits. The machine is simple to operate and requires few input parameters. It is equipped with a PLC control system to ensure optimum packaging efficiency. Its electrical wires are connected properly and require regular cleaning to ensure a good working condition. It is possible to choose between an auto and semi-auto packing machine.
Two-step cutting feature of the automatic protein bar packaging line allows it to cut the bag length and width in a single step. It has a high-resolution photoelectric eye color tracing for added accuracy and a position stop function to prevent the knife from sticking to the film and waste film. All of this is achieved with an intuitive software. Moreover, Our peanuts bar packing equipment is equipped with an anti-dusting function, which ensures the safety of the products. The open cantilever structure of this nutrition bar packing machine makes the machine easy to operate. It is driven by a synchronous belt, which reduces transmission noise and allows the machine to run smoothly. The touch screen panel is adjustable and has the function of saving and retrieving product technical parameters. In addition, it adopts slag leakage design of the conveying guide rail to prevent accumulation of residue and complies with the requirements of food production safety.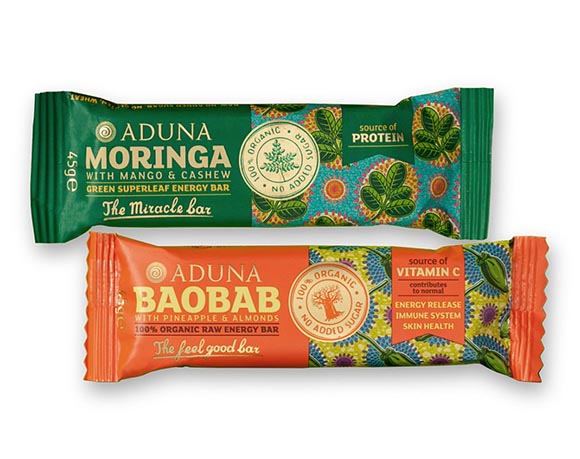 What Models of Protein Bar Packaging Machine Here ?
Ruipuhua, the packaging machine manufacturer, we have the ZP-500 horizontal packing machine, ZP-500SG packing machine etc. Its open cantilever structure makes it easy to operate. Its synchronous belt minimizes transmission noise and ensures smooth operation. Its touch screen panel is adjustable so that you can change the product parameters easily. Its temperature-independent PID control ensures higher efficiency when packaging different materials. A position stop function prevents the knife from sticking to the film. The user-friendly interface provides all the necessary information to make the process faster and more efficient. A simple touch screen panel helps you program the machine to fit the type of product you are producing. A touch screen panel also allows you to save and retrieve the product's technical parameters, such as the desired package size. A slag-free conveyor rail also prevents the accumulation of residues on the conveying guide rail.
Simultaneously, Cereal bar packaging machinery has a high-speed, powerful packaging capacity, and can be used for a wide variety of snack bar and energy bar products. It has an open cantilever structure and a synchronous belt that reduces transmission noise and improves the machine's stability. It has an adjustable touch screen panel that allows users to set up the parameters of the product. It can also store the size of the bag and can retrieve the weight. The synchronous belt that drives this machine helps reduce the amount of noise generated during the transmission process. It also has a film transport device that allows you to automatically place the product at the desired place on the bag. The bag maker forms the packaging film into a bag. Then, the machine uses a longitudinal sealing device and a transverse sealing cutting device to seal the back of the bag. When the product is finished, it is automatically output from the machine.
Introduction and Price of Automatic Cereal Bar packaging Machine
This type of cereal bar wrapping machine is an imported horizontal wrapping machine, equipped with 5 servo motor wrapping technology, touch screen control panel, easy to operate; adjustable bag making machine, allowing you to wrap various bar products continuously; a wide range of packaging , Suitable for packaging cereal bars, energy bars, protein bars, granola bars, chocolate bars, etc. RUIPUHUA cereal bar packing machine bag length small outer diameter 80-400mm; large outer diameter 100-400mm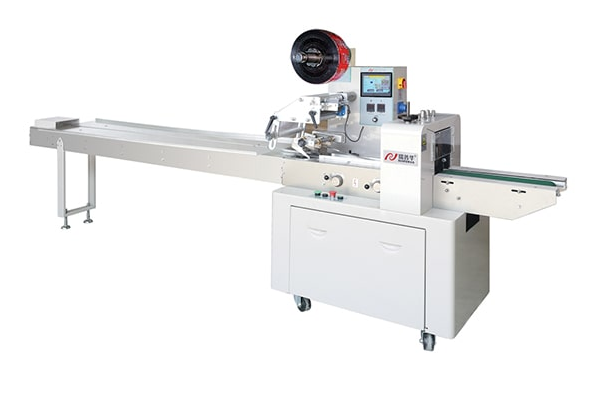 Custom Design of Automatic Bar Snack Packaging Aystem
We customize the packaging system according to product characteristics, packaging method requirements, single or multiple packaging, etc., to pack different kinds of bar snacks.
For cereal bars, protein bars, without chocolate coating, we use 3 Servo controlled double cutter, similar to wafer wrapping system↗️, which can be connected with cereal bar cutter for feeding and wrapping fully automatic.
For chocolate bars or chocolate coated cereal bars, we use a chocolate bar packaging machinery ↗️ for automatic packaging needs.
For the packaging of small quantities of cereal bars, we have implemented a simple automatic packaging line, ↗️ using a unit flow packaging machine for packaging.
Frequency issues with cereal bar packaging machines
Question 1: What is cereal bar packaging material and where can I buy it?
A: Cereal bar packaging film must be food grade and heat sealed. It is recommended to use double-layer composite film, OPP and CPP materials, thickness 40-50 microns. As a consumable, you'd better find a reliable automatic packaging machine manufacturer, if you really need this service, you can contact RUIPUHUA machinery online.
Question 2: Do you have machines for cereal bars in multipack and carton?
A: Yes, we have related machines, please list your multi-pack packaging requirements and check packaging machine ↗️ here.
If you have any further questions about automatic cereal bar packaging, please contact us by email: lotuspack@ruipuhua.com
CONTACT US


Foshan Ruipuhua Machinery Equipment Co., Ltd.
We are always providing our customers with reliable products and considerate services.
If you would like to keep touch with us directly, please go to contact us
1

Hey friend! Welcome! Got a minute to chat?