How To Get A Suitable Plastic Box For The Packaging Machine ?
1. Tray size:
rectangle: length 50-170mm, width 50-130mm, height 20-45mm
Square: side length 50-130mm, height 20-45mm
Round: diameter 50-130mm, height 20-45mm
If it exceeds the above size, you need to make corresponding changes. For specific non-standard sizes, please consult Lotus by call: +86 13420743171
2. Speed: 150bags/min
Over this speed, can add more line or longer the conveyor belt, then the speed can up to 180bags/min. Now the maximum line number is 6 lines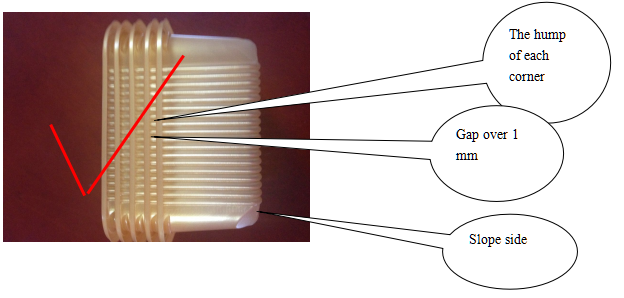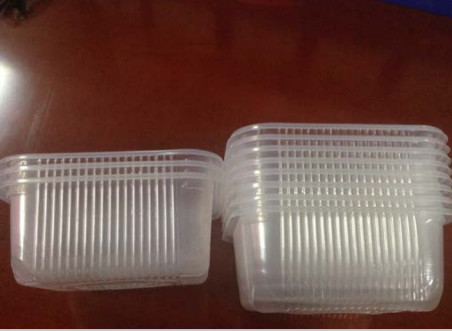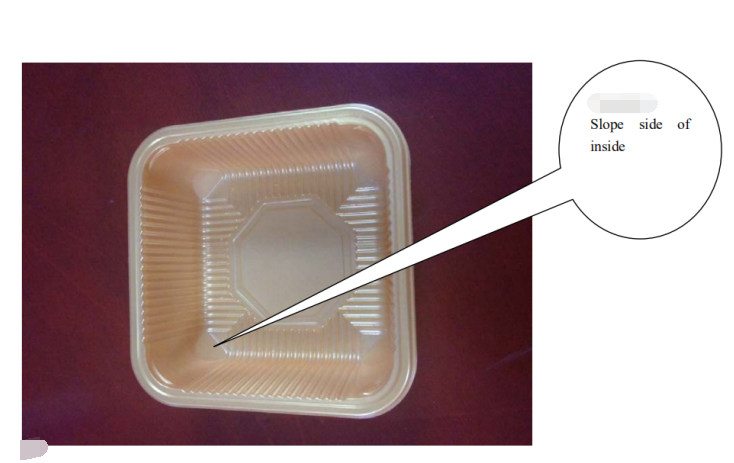 3. Requirements for the tray/box:
a. Stack multiple boxes/trays together, do not press too tightly, in a natural state, there is a gap of more than 1mm on the edges of every two adjacent pallets, and the tray/box can be easily separated by hand. The four corners (square) of the tray/box have a bulge on the outside, and the inner bottom has an obvious slope to prevent the two pallets from being fastened tightly and affecting the separation effect.
b. The contact part of the suction cup at the bottom of the tray should be as smooth as possible. If there is a pattern or number or company logo, the depth of the pattern should be within 1mm. Do not have a deep depression to prevent the tray from being deformed during suction and affecting the sub-supporting effect. As shown in the figure below, the bottom of the tray is more than 10mm recessed, and there are no reinforcing ribs around the four corners, and the strength is weak. The tray is easily deformed by the suction cup, so this affects the splitting effect.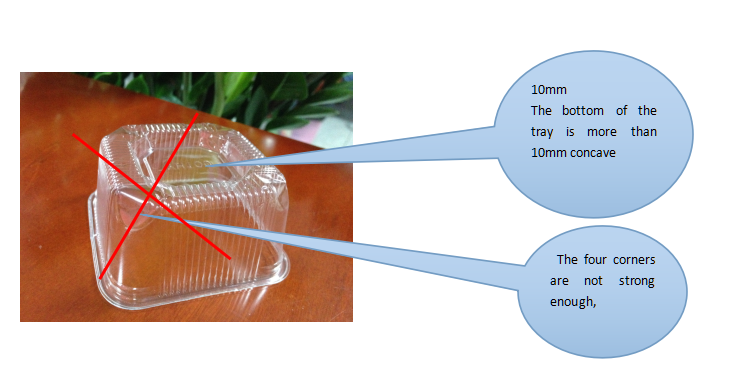 c. The strength and thickness of the tray/box should be moderate. The upper edge and the lower bottom of the tray/box should be gently pinched by hand, and the deformation should not exceed 5mm. As shown in the figure below, the strength of less stiffeners will be slightly weaker, and the sub-supporting effect of more stiffeners will be better.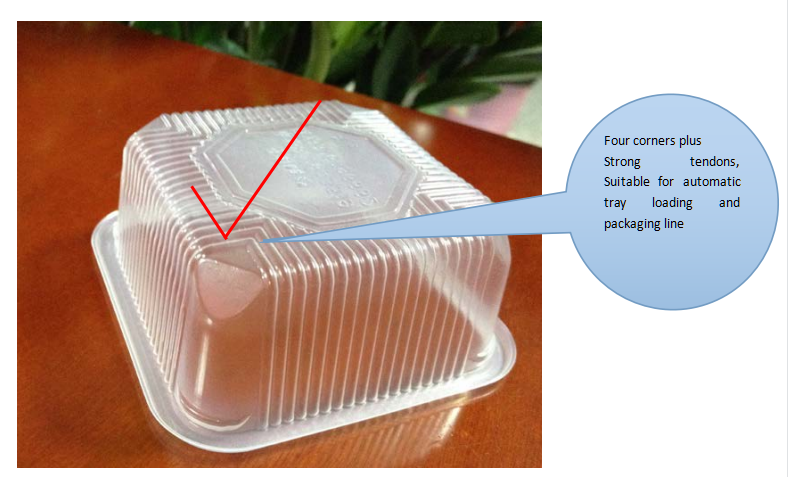 d. The smallest dimension inside the tray/box should be 5mm larger (both sides) than the largest product. If the product is a multi-layer product, the inner dimension of the tray/box should be slightly larger.
The tray/box requirements listed above are for reference. You can also send the tray/box and products back to Lotus's company, and reply to the customer after the test is confirmed. If the tray/box test is not ideal, the technical department can also make suggestions on pallet rectification and communicate with customers.
4. Air pressure≧0.6MPa (Mpa)
5. Case: Automatic tray loading and packaging line (2 lines)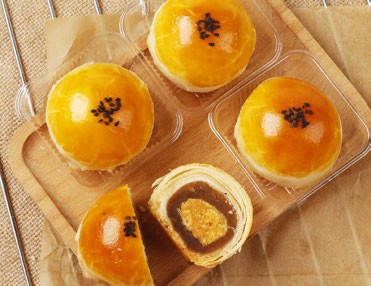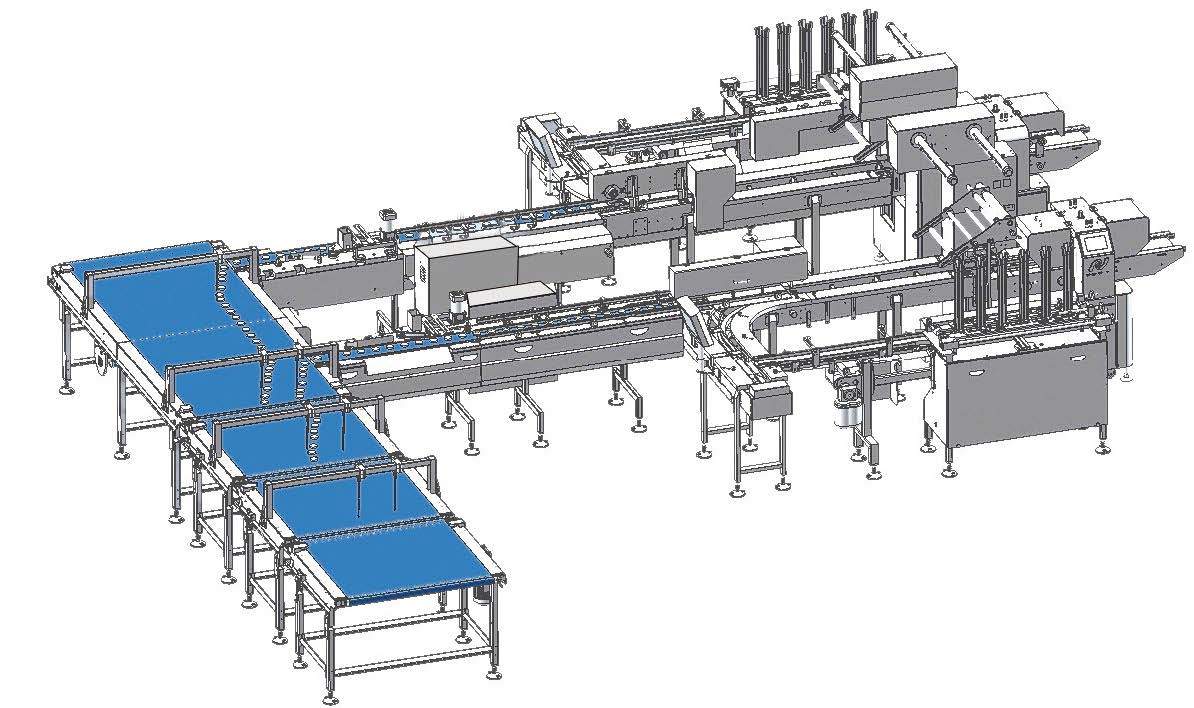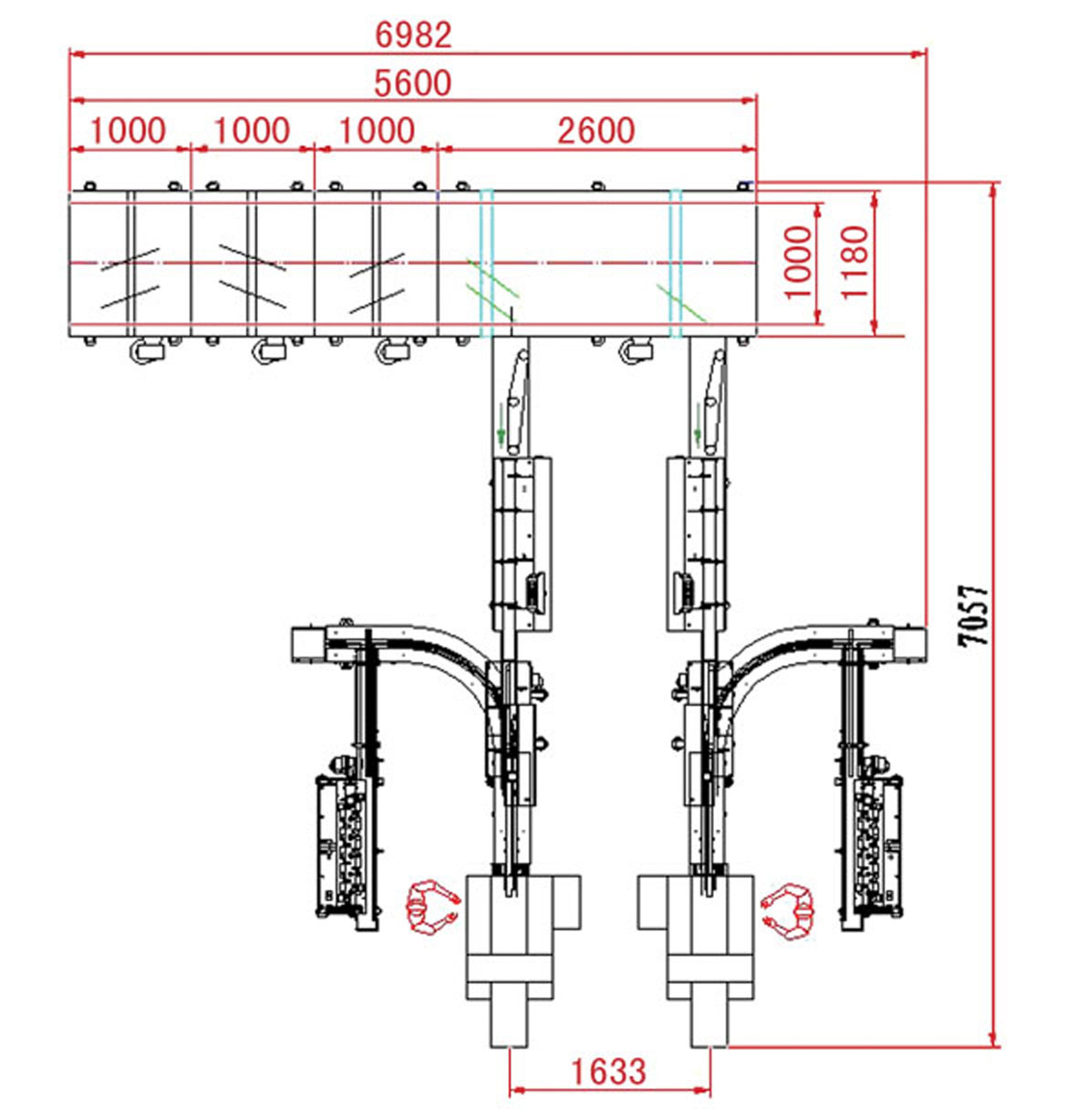 6. For more detail, please check the following Video:
}
CONTACT US


Foshan Ruipuhua Machinery Equipment Co., Ltd.
We are always providing our customers with reliable products and considerate services.
If you would like to keep touch with us directly, please go to contact us